PRODUCTS
SPORT WOOL

Sportwool®Higher Performance
Sport wool® is composed of Merino wool inside with superb moisture absorption and polyester outside with high vapor diffusion,o which combination provides Sport wool® with the highly enhanced performance of unique vapor transefer and wicking property.Trus Sport wool® is a milestone material realizing an excellent function of temperature humidity control and eventually always keeps the wearer comfortable during in action.
The key features of Sportwool®
Superb function of temperature humidity control always keeps the skin surface of the wearer dry.
Keep the temperature inside the garment comfortable durung incentive action.
Provides the wearer soft to touch and fresh to wear.Suitable for casual wear.
Keeps the easy care property of machine washable(gentle cycle)at home.
Sportwool®Benefits to the wearer in action
Extensive research and development and testing results in cooperation with CSIRO* definitely show that Sportwool® in action stays cool and comfortable when compared with synthetic garment under the same conditions.
*Commonwealth(of Australia)Scientific and Industrial Research Organization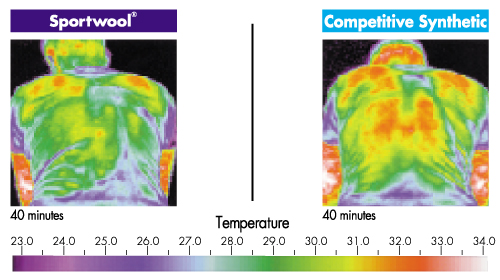 Sportwool® A micro-climate comtrol mechanism